For those that read my work, you will know that I refer to the "Wheels of Health" and the fact that all of them need to be in balance in order for us to lead happy, healthy, and productive lives. The Wheels of Health that I believe need to be in balance are:
Movement (Exercise)
Mindfulness (Mental Health)
Sleep
What we Eat (Food)
I believe that each of these "Wheels" needs to be balanced, or it affects the others. For example, if you don't have a great night's sleep, then perhaps the next day you don't feel like exercising, you may reach for unhealthy foods, and it may affect your mental disposition. Therefore it is important that every day we do what we can to keep all of our health wheels in balance.
Movement
The wheel that I am asked most often about is Movement or Exercise, and people want to know what my workout or exercise routine is, so I thought I would share that today.
The reason I refer to this as "Movement" is that is all that one needs to do – Just Move. Most people mistakenly believe that the only way to exercise effectively is to get on a treadmill, or elliptical trainer, lift intense weights, or go full out during any exercise. I am sure you have heard the term "No Pain, No Gain" which implies that if we don't push super hard, we are not getting any fitness benefits.
My belief is the key to longevity is to just do something — just move. This can be as simple as stretching, going for a walk, going for a hike, or an easy bike ride. In fact, I feel the less strenuous the activity is, the more I seem to benefit from an emotional and mental standpoint. For example, when I am out for an "easy" hike, run, walk, or bike, I can't help but notice all of the nature and beauty around me. I find personally that my favourite mentally stimulating workouts are the ones where I exercise longer and slower and really enjoy everything around me. For more on living in the present, you can read it on this blog – 5 Strategies to Live In The Moment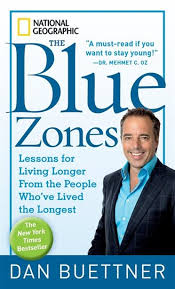 The Longest Living People On the Planet – Sardegna
You have heard me refer in previous blogs to Dan Buettner's Book – The Blue Zones whereby he studies the habits of the longest-living people in the world as defined by the number of centurions. Centurions by definition, are people that reach 100 years of age. None of the people in The Blue Zone communities that Dan studied have a scheduled daily "work out," they just have hours of continuous movement as part of their daily life. I have personally visited one of these Blue Zones in Sardegna, Italy and most centurions include very moderate movement as part of their daily life by working on their land, farming, working with animals, and herding sheep.
What is my Exercise Routine?
I think if all we do is focus on one type of exercise (for example — exclusively cardio training) that other elements of our overall fitness and vitality suffer, such as strength and flexibility. I look at it as a four-legged stool that all needs to be in balance from an exercise standpoint. The four vital components of exercise, particularly as we age, are Cardiovascular, Strength, Stretching, and Balance. This is of particular importance as we age, as many injuries and subsequent effects on life are due to people falling due to balance and/or strength issues. One in four people aged 65 and over falls each year. Falls are the leading cause of fatal injury and the most common cause of hospital admissions among older adults.
One of the most common questions I get from people is about my exercise habits and routines. Please keep in mind that depending on the time of year it is, I shift my training based on whether it is the racing season or whether I am rebuilding or recovering from the racing season.
Below is what I do most of the year regarding my exercise routine.
1. Cardiovascular
This would be the core of my training, and I typically engage in Cardiovascular activity 3-4 days per week. Traditionally this is cycling, running, and swimming in preparation for my triathlon racing season. This year I have especially made it a point of training outside as much as possible (cycling, mountain biking) as I feel that with all the time I am spending indoors on the computer and in virtual meetings, it is important to get outside and get fresh air from a mental and physical standpoint.
As outlined above, cardiovascular training does not have to be on a treadmill, running, swimming, or biking. I believe that for longevity, the best exercise is slow, easy, continuous movement, such as walking or hiking for 60 minutes per day.
2. Strength Training – Key as we age
One of the things I have made a point of focusing on over the last few years has been strength training as part of my regular exercise routine. I have focused on this in order to improve my racing and also to prevent injury as I get older. I believe the number one component of injury prevention is strength training, and right now, I am doing strength training three days per week most weeks. A special shout out to my son Matt, who puts my (and many others') training programs together.
As we age, we typically lose muscle mass, so it is even more important that we continue to build strength in order to replace muscle lost due to aging. In addition, strength training also increases testosterone release as well as HGH (Human Growth Hormone), which also typically decreases with age.
3. Stretching/Rolling
As part of my routine, I regularly stretch as well as use a vibrating roller to roll out sore muscles. I believe this is important in order to recover and also ensure I can have great workouts. Quite often on my day off, I devote my regular workout time (first thing in the morning) to stretching and rolling, and I must say that I do it so vigorously that it actually feels like I have had a workout. In particular, as we age, it is important to keep our muscles and our ligaments subtle, and therefore we need to make sure stretching is a component of our regular routine.
4. Balance
Balance is also critical as we age, as the loss of muscle and flexibility contributes to a significant increase in injuries due to falling for elderly people. I must admit that balance has not been a regular part of my fitness routine; however, as I age, I will incorporate balance exercises into my routine. One balance test that we have all likely done is to stand on one leg and close our eyes. It is interesting to see how quickly we lose our balance when we do this. Through practice doing this on a regular basis, it is amazing how quickly our balance improves.
I believe that as we age, we can offset our chronological aging by incorporating certain activities into our regular routines. Many feel that falling and injury due to aging is just normal and part of the aging process. I am of the belief that we can do things to prevent injury and slow aging by incorporating certain things into our daily exercise regimen.
Most importantly, please ensure you build all 4 legs of the "stool" into your weekly routine:
1. Movement
2.Strength training
3.Stretching
4.Balance
I wish you and your family all the best in health and happiness.
Kevin Brady, Advica Health Founder
Disclaimer: The information shared by Advica Health Inc., including but not limited to text, infographics, videos, and other material contained on its website, blog posts, and newsletters, are for educational and informational purposes only and may not be appropriate or applicable for your individual circumstances. Advica Health Inc.'s website, newsletters, and blog posts do not provide medical advice and are not intended to be a substitute for professional medical advice, diagnosis, or treatment. Always consult your family physician or other qualified healthcare professional with any questions that you may have regarding a medical condition or treatment or before undertaking a new health regimen. Do not use these materials for medical diagnosis or treatment. None of the content on the website or in newsletters or blogs represents or warrants that any particular device, procedure, or treatment is safe, appropriate, or effective for you. Do not delay any medical intervention or treatment because of something you have read on Advica Health's website, newsletters, or blog. Your reliance on any information on the website, newsletters, and blogs is solely at your own risk. Advica Health Inc. makes no representation or warranty, express or implied, and assumes no responsibility or legal liability for the accuracy, completeness, timeliness, or quality of any information on its website, blog posts, and newsletters. We reserve the right to withdraw or amend the material we provide , at our sole discretion, without notice.
If you are a member or have any questions related to your physical or mental health concerns, please contact Advica Health's Nurse Navigation Team.